Picmonkey: Free 30 Day Trial! (EXPIRED)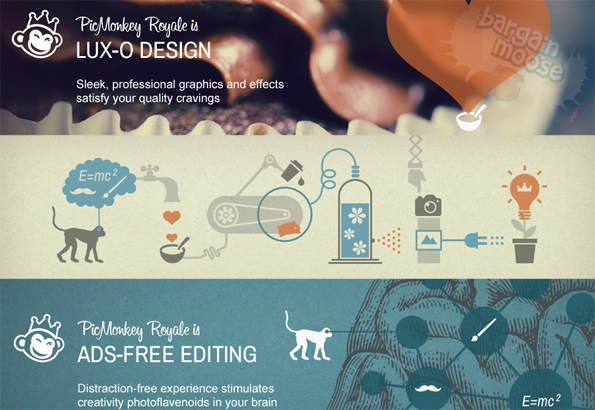 If you want to make an edit to an image, there is a wealth of ways to do so; from using Microsoft Paint (!) to Adobe Photoshop. One of the ways that falls in between those two programs is PicMonkey – it's a popular online image editing tool. PicMonkey's normal services are free to use… but they also have a "royale" program for paid susbcribers. And just now, they're offering 30 days of their Royale service totally for free!
The Royale service on Picmonkey usually costs $4.99 per month, so you're pretty much getting a five buck freebie here if you sign up now. This offer is only valid for a couple more days though, so you could sign up now and then use PicMonkey for free for the next month. You're not tied in to any longer contracts or anything. If you don't want to continue the service, you can cancel it at any time and you won't be billed. But if you let your trial run on after the initial 30 day period, then you will be billed either monthly or annually, at their normal rates.
Now, while I personally have access to Adobe Photoshop and that's what I use for all my image editing needs, not everyone has access to such a program. In fact, most of our team of authors here on Bargainmoose actually use PicMonkey to create and edit the very images you see here on the blog! Brooke recently started using PicMonkey, and here's what she says:
It's very easy to use. A few clicks and I have my perfect image. It only took me a few minutes to figure it out, and the features that are free are great!
And here are a few words from Picmonkey about what extras the Royale service gives you compared to the regular and free version of the image editing tool:
50% more frames, fonts, overlays, textures & effects
Twice the touch up tools
Extra layouts and customization in collage
Absolutely, positively, not a single ad
It's that latter point that excites me the most. I know there are many excellent tools online, but an ad-free service really makes it sweet. For only $33 per year, I am more than happy to subscribe to the services on PicMonkey – they're really top notch. If you want a recommendation of this service, then you've got one from Bargainmoose!
(Expires: 4th January 2014)