P&G Free Sample Unstopables & Sweet Dreams Collection Coupon Booklet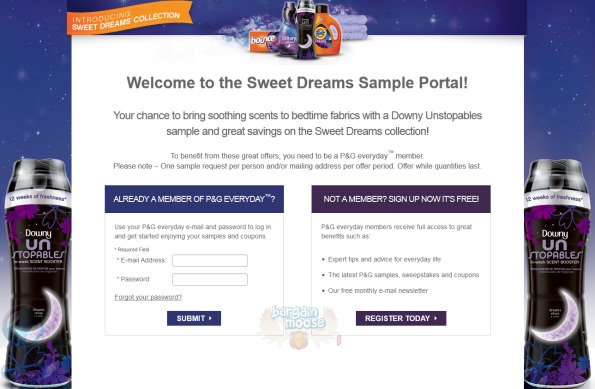 The only thing better than getting a free sample is getting a free sample and a coupon booklet to boot!  Get a free sample of Downy Unstopables and a Sweet Dreams Collection coupon booklet with no purchase necessary at P&G Brandsaver.
We wrote last week about the new P&G Brandsaver coupons that were available, but now they have an entire booklet of coupons to grab as well.  You will need to be a P&G member so if you are not yet a member and have not been getting their free coupons, make sure to sign up first on the right hand side.  It is absolutely free and the benefits are awesome!
You will be allowed one sample request per person and/or mailing address per offer period. There is no expiry listed so it will be available until supplies run out. The samples and coupon booklets will take anywhere between 6-8 weeks to be delivered.
This free Downy Unstopables is an in wash scent booster that will leave your clothes smelling nice and fresh. It is a great way to try out a new product without having to buy it first.
It doesn't actually say which coupons or how many will be in the Sweet Dreams booklet but who could complain when it is free!
(Expiry: While Quantities last)