Pet Freebies: Free Dog Food (Royal Canin)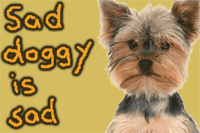 Registering on the RoyalCanin.ca website gets you a great perk! They mail you a coupon for a free 2.5lb bag of Royal Canin pet food!
This is supposed to be a 3 week supply of pet food for a Yorkshire Terrier, but I'm sure any dog can eat it! Unless it would be poisonous to other breeds!?
The deal is really only available to those of you in Toronto!
Do you have a dog? What kind? Tell me if he likes his free food!