Ontario Fun Passes: Kids Free With Adult @ 19 Attractions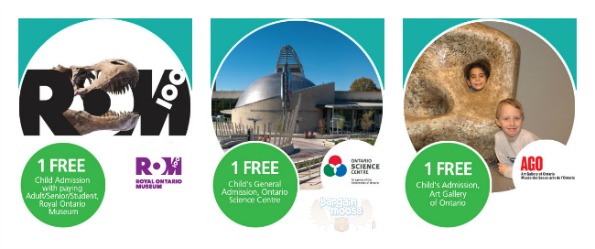 Ontario seems to be the province in Canada that gets all the best deals.  If you live in Ontario, or you are planning on visiting this summer, there are some great deals with Ontario Fun Passes.  Right now, they are offering free child's admission to a variety of activities when you purchase an adult ticket.
Currently, Ontario Fun Passes is offering this buy one get one free deal for 19 various attractions around Ontario.  This is a great way to do activities as a family this summer and save in the process.  It can be quite pricey to do different attractions with the kids, so buying them through Ontario Fun passes allows at least your kids to be free.
There is no charge or fee whatsoever to sign up for your Ontario Fun pass, so all of these deals are absolutely free! To redeem your Fun Pass, all you need is the name of your school board, your postal code and email address.
Here are just a few of the places you will save at:
Art Gallery of Ontario
Discovery HarbourFort Henry national Historic Site of Canada
Old Fort Erie
Ontario Heritage Trust (five attractions)
Ontario Parks
Ontario Science Centre
Royal Botanical Gardens
Royal Ontario Museum
Actually, that list is less than half of the different attractions you will save at since there are 19 in total.  The free kids passes will be free when you purchase either an adult or senior pass.
Additionally, when you get your passes you will also get a $2 discount on a daily parking permit at participating Ontario Parks. The total savings for families add up to over $185, which is pretty incredible!
The Ontario Fun Pass itself is valid starting starting now until October 31st. The actual attractions that it is valid for, though, may have different dates of operation. You will need to decide which ones you want to go to and plan around those dates.
(Expiry: 31st October 2104)