Old Navy Canada: Free Tees for your Kids in Costume!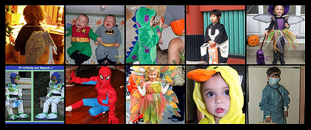 UPDATE - Now Expired!
Would you like a free Old Navy tee-shirt for your kid? They're giving them away tomorrow, at 11am on Saturday the 25th of October, 2008, at your freebies you can get!
I would recommend getting there early, in case they are pretty busy, and they probably only have limited stocks. Also, I don't know what age group they classify as a "child", so it might be a good idea to give them a call before you go if you want to make sure.
Perhaps you could even bring the $10 off $50 discount coupon with you, and buy something nice for yourself!!
Cheers for that pic Red Colander.
- Anna