Nestle Baby Canada Program: Freebies For New Parents Worth Up To $130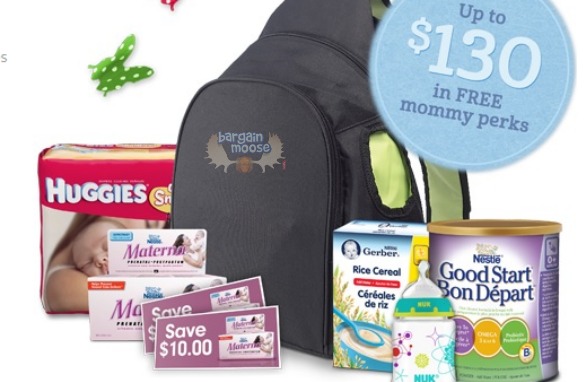 There are a few programs out there that you can get free baby items from when you are having a baby, and Nestle Baby is one of the better ones.  We have mentioned this program before, but it has been almost four years since then, so the deals have changed a lot. Not only will you get some great coupons just for signing up, you can also get some great free gifts as well.
I signed up for this program when I was pregnant with my first son four years ago, and although I loved what I got, the gifts are much better now. Currently, the free package you get is worth $130.
Here is a look at the free registration gift:
An infant formula sample
Infant nutrition samples
Stylish diaper bag with change pad
Coupons for Materna and other products
Materna Vitamins
Baby bottle
The Nestlé Start Healthy, Stay Healthy Baby Feeding Guide
Customized emails with tips, online tools, and videos
To get this free gift, all you have to do sign up and enter your information. There is no need to buy anything and it will not cost you anything to sign up. You do not need to have a baby to sign up. You can be trying or pregnant and still get all of the free gifts mentioned above.
I love freebies like this because as a new parent, there are so many selections out there. When I got mine, I held onto the samples until I had my baby and it came in handy.  It was a great way for me to try out a few different formulas and bottles without have to spend a ton of money on them. I also used the diaper bag every single day. The diaper bag that they are offering now is insulated, so it is perfect to store bottles if you are out and about. I also like how stylish it is. Mine was good quality, but not as stylish as the one they are offering right now.
Your package will be shipped for free within about six to eight weeks. I do remember however, mine being shipped a lot faster.
(Expiry: Currently ongoing)