iTunes: 12 Days of Free Downloads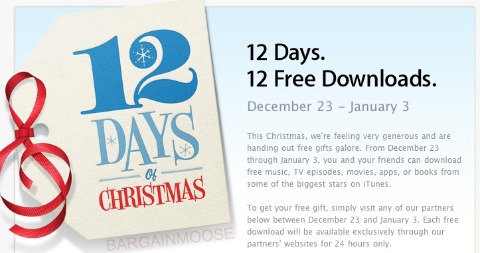 Thank you to Mooser Nicholas for sending us this wonderful Christmas promotion from itunes! On the 1st Day of Christmas my iTunes gave to me... a free episode of Big Bang Theory!
Everyday  for 12 days iTunes will be giving away a free download... who knows what they might be (except maybe Steve Jobs). To get yours:
To get your free download, visit any of iTunes' partners (via website above) between December 23 and January 3. Each free download will be available exclusively through their partners' websites for 24 hours only.
Can't wait to see what I get tomorrow!