Get a Coupon for a FREE box of Kashi Cereal or Bars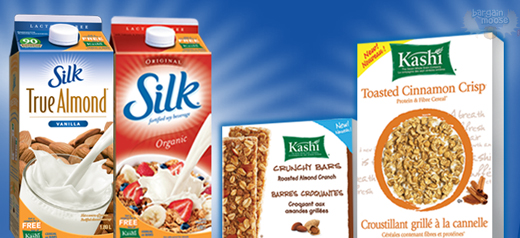 If you buy specially marked cartons of Silk Almond Milk or Soy Beverage you get a coupon for a free box of Kashi cereal or bars by mail. All you have to do is go to drinksilk.ca, enter in your information and the UPC code from your carton and they will send you a coupon.
There are only 60,000 coupons for the giveaway and this offer ends December 31, 2012. Only one coupon per household.
As a bonus, if you sign up for Silk's emails, you get a printable $2.00 off coupon for any Silk product.
I love eating Kashi cereals, crackers and snacks because they are whole grain, made without artificial ingredients and they don't taste like cardboard like some other healthy whole grain snacks. My favourite Kashi product is the GoLean cereal with 13g of protein, 5g of fibre and less than 1g of fat per serving. I've also been known to indulge on the healthy but decadent Cherry Dark Chocolate chewy granola bars and my kids love them too.
After realizing myself and one of my sons has a dairy intolerance, I went on the search for an alternative to milk. After trying different types and brands, I found Silk Almond Milk to have the best flavour and a consistency close to milk. My family didn't even notice the difference when we switched!