Free stuff: EnduraGlide Dry-Erase Markers from Acco!
This is a very nice freebie, and reports on the other Canadian forums confirm that people have received these EnduraGlide Dry-Erase Markers from Acco.ca. I'll link you to the mail in rebate. Just print it out, fill it in, slap a stamp on it and mail it to the address provided.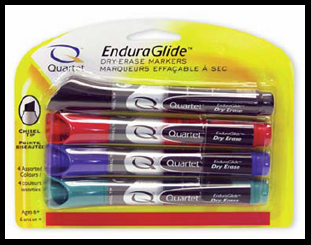 When you choose EnduraGlide® Dry-Erase Markers, you always get bright, bold, continuous colour. While other markers dry out, EnduraGlide's three-chamber technology continues to deliver strong, vivid lines.
For the cost of a 55c stamp, I think this is well worth it! Maybe they would be handy for the kids going back to school?
- Anna