Free Scrubbing Bubbles Toilet Cleaner @ Zellers!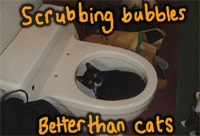 Here's another excellent deal for you savvy shoppers! Would you like a free full-size product of Scrubbing Bubbles toilet cleaning gels? If so, here's how:
Print out the scrubbing bubbles coupon for $3 discount
Go to your local Zellers and use it
The scrubbing bubbles gels are only $2.50 this week at Zellers Canada – until the 3rd of April 2009. Get in fast while they still have stock left! Using the discount coupon means you get the toilet cleaning gel for free!
Sparkly clean toilets at zero cost – what more could a woman want??
P.S. While you're out, why not pick up some free cranberry sauce at Shoppers too!
Thanks unkannyvalley!