FREE Lysol No-Touch Hand Soap System with Mail-in Rebate ($18 Value) (EXPIRED)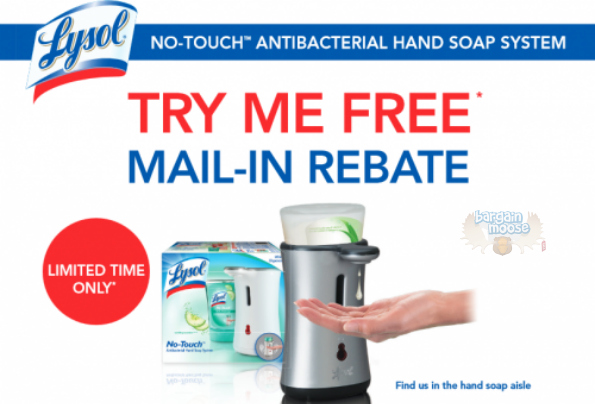 I am excited to let you know that this awesome Lysol freebie is back! Use the mail in rebate form below to get a free Lysol no-touch antibacterial hand soap system.
Seriously, this is a great freebie! Lysol will refund you up to $17.90 to cover the cost of the product, taxes, and postage. I always figured that you would only get what you pay for the dispenser (plus taxes and postage) but freebie lovers like Krista say you can get the full rebate even if you pay less for the mail in rebate:
For example, if you purchase it for $19.99 somewhere, you will only get the rebate for the maximum of $17.90. Why not find it on sale for $11.99, and then you will still get the $17.90 and you could actually make money! I have done this many time before.
I think this is a fantastic plan. I know my partner has done this with food on apps like Checkout 51. I think he made like $1 a bag on crisps (times three) one time.
To receive your refund, you need to purchase the product in store and then complete the Official Refund Form in the link above. You must attach the original dated cash register receipt from where you purchased the Lysol system. Make sure to circle the price on the receipt and write down the Universal Product Code (UPC) on the receipt as well. Failure to do so will result in no refund. :(
There is a limit of one rebate per household / address. This is typical of all freebies. Even if you have taken advantage of this offer before, you can still do so again. They do not exclude people who have taken advantage of this promotion previously (like back in September).
Purchase the Lysol no-touch antibacterial hand soap system between now and July 31st, 2015. Then, make sure to mail in the completed rebate form with attached receipt by the 31st of August. They need to receive your completed Official Rebate Form by the end of august in order for you to be eligible. The rebate will take six to eight weeks to arrive.
I have never taken advantage of this offer before, but I am thinking of buying one, filling out the rebate, and then giving it to my parents. I could see this being quite useful in my father's shop.
(Expiry: 31st July 2015)