Free Greetings Card From The CardStore.com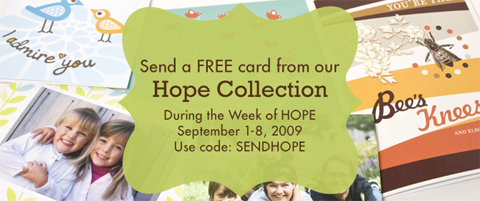 How's this for a nice freebie - a free personalized greeting card! You can send a free card from the Hope Collection on CardStore.com. You can choose from  photo cards, encouragement cards, love and friendship cards or note cards.
Click here for your free card @ CardStore
Coupon Code: SENDHOPE
Expires: 8th September 2009
Apparently, there's free shipping too.
When I did a test, the order was $2.79 plus $0.98 for shipping. When I applied the coupon code, it deducted the $3.77 total - leaving the cart price at zero!
Thanks for the email Megan!