Free 30-Day Trial @ Daily Burn!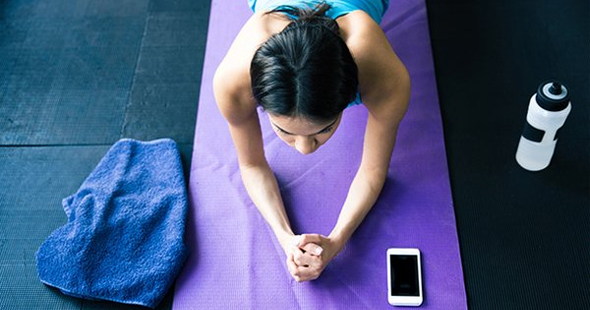 If you're like most people, you're busy. With a capital B. And I know that, as the new year dawns and the weather worsens, you want to get in shape and you probably don't want to have to go far to do it. These are all reasons I started working out at home a number of years ago.
Some people prefer the structure of a gym/studio for exercise. But if you're a homebody like me or you just want to get a routine going without feeling as if you have an audience, please save the money (and space) and go online instead. I have over 500 workout videos on my computer now and even I get bored. I went looking for an alternative that would allow me to get my daily 30 minutes (without changing out of my PJs) and I found Daily Burn and their free 30-day trial and I wanted to share it with you.
To give Daily Burn a try without commitment, you first have to answer a few basic questions so they can tailor their recommendations. Now, as with any of these free trials on almost every site, you will need to provide payment information but you can cancel any time within those 30 days if you aren't happy. You do so right from your Daily Burn account; no phone calls necessary. If you stick with it, it's only $12.95 a month, or you can purchase an annual membership which works out to $10 per month (I'm waiting to hear back from Daily Burn to confirm that these are US funds but I suspect they are) - far less than membership fees at most gyms, even with an exchange taken into account.
Along with hundreds of different workouts you can do anywhere you have a device to stream them, they also have Coaches. You'll have the opportunity to take that feature for a test drive during the trial period, too, if you choose but remember, if you don't cancel, coaching is an additional $50 per month.
Daily Burn's programs run the gamut from yoga (including a prenatal series) and Pilates to kettlebell training and everything in between. Lengths vary from 15 minutes to full hour-long sessions. My recommended program was '365' which is a new, live, 30-minute video every single day. Hard to get bored with that! But you're not limited to a single program; all the videos are on-demand 24 hours a day. I enjoy Bob Harper's DVDs (you may know him from 'The Biggest Loser') so I'm trying his program, too. There's an entire Daily Burn community for support and encouragement as well as recipes, nutrition and other useful information.
Whether you're a graduate of Insanity or you haven't done a jumping jack since grade 9 gym class, you will find something at Daily Burn. I was surprised and thrilled with the selection. Even if you're a gym rat, give it a shot. Clubs close for holidays, vacations, business trips or just for a quick 15-minute activity burst or stress-relieving stretch during a busy day.
As always, do your due diligence: read the site's Terms & Conditions and ensure you're healthy enough to exercise. I hope you enjoy the variety and convenience as much as I do. Let me know your favourite work out, Moosers, so I can give it a try! Now, I'm off to get sweaty with Bob Harper (in the innocent, G-rated sense).
(Expires: Unknown)