Canadian Freebies: Purex Complete with Zout Free Sample
Get a free sample of Purex Complete with Zout. Your sample will take about 6 - 8 weeks to come in.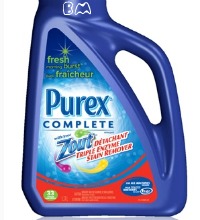 I just requested my free sample with no problems. It is a very simple form requiring the basic information. You can uncheck the box for receiving info from them, and you can still get your sample. At the end they give you the option of sending the promo to your friends as well.
Free is good! :-)