Canadian Freebies: Crown Royal Whisky Free Personal Labels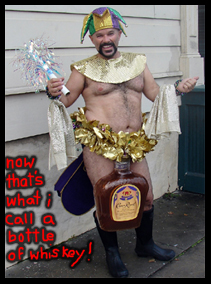 First of all, you have to register on the Crown Royal site. Once that is done, click "free personalized labels" at the top to order your personalized freebies!
This free item has been reported as received on other forums.
If you have the birthday of a friend or family member coming up, and you were thinking of getting them a bottle of Crown Royale anyway…. why not order one of these specially fitted labels, with a customized greeting on it?
You can order up to 5 for free on the CrownRoyal website.
The Art of Drink blog gives a bit of background on the brand, which I never knew about. Crown Royal was first created in 1939 for King George VI and Queen Elizabeth during a royal visit to Canada!! They also refer to the spirit as "a pleasure to drink". I can tell you, I've never said that about a whiskey… I'm not a whiskey fan at all! My spirit of choice is vodka :p
Thanks for the image howieluvzus.
- Anna