Canadian Freebies: Coach Canada Free Gift!
This is a Facebook promotion from Coach Canada. For their Facebook fans, they are giving away exclusive gifts in-store.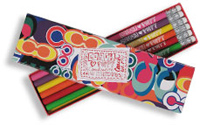 Note that the Canadian provinces are at the bottom of the drop down list!
The Coach web page doesn't specifically state what the Canadian freebie is. However, there is a pretty clear picture of a tin of pencils (see image to left), so it could well be that. They should be totally free, no purchase necessary! Even if you don't need pencils yourself, could be good to pick them up for kids in the family.