Canadian Freebie: Printable Coupon For a Free Cup of Tea @ Teavana Canada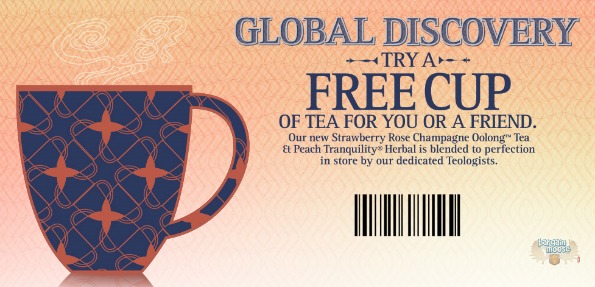 If you're a big fan of Teavana, or just tea in general, then this freebie is perfect for you! Teavana Canada has a new printable coupon for a free 16 oz. cup of their new Strawberry Rose Champagne Oolong Tea and Peach Tranquility Herbal! There is a limit of one per person and this coupon cannot be combined with any other discounts or offers.
So here's the dealio on this new tea that Teavana wants you to try. Strawberry Rose Champagne Oolong Tea is French inspired and contains vanilla, strawberries, white grapes, rhubarb, pink rosebuds and a splash of champagne. Sounds delicious, right?
It has a 4.1/5 rating based on 43 reviews and 79% of tea lovers would recommend this blend to a friend. Some of the most popular terms to describe this tea were soothing, smooth, aromatic and fresh. On the other hand, some of the more negative reviews focused on the weakness of the tea and that it had an artificial taste.
However, decide for yourself! It's free, so what do you have to lose? I was looking forward to my free cup until I checked out the store locator and realized there aren't any Teavana locations in Saskatchewan. But for anyone who lives in Alberta, British Columbia, Manitoba, New Brunswick, Ontario, or Quebec, you are in luck! Enjoy!
If you're looking for more great coupons from Teavana Canada, make sure to stop by our coupon forum.
(Expiry: 31st March 2013)