Canadian Freebie: Nestle Gerber Graduates Toddler Drink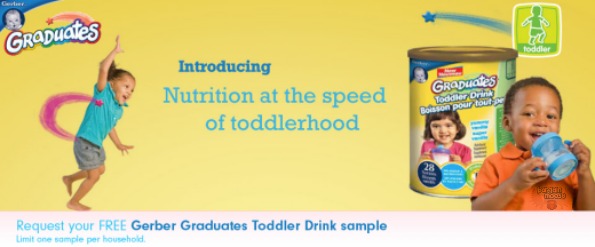 If you have little ones at home, you know how hard it can be to get them to eat properly. For some reason brussel sprouts and broccoli just don't go over well with your little picky eater. Nestle Canada has come up with a solution -- Gerber Graduates Toddler Drinks!
Here's the dish on the benefits:
This drink is the one and only toddler drink that contains B. lactis, which is a pro-biotic that assists in keeping your child's digestive tract flora healthy.  Packed with the natural goodness of milk, 25 vitamins and 28 minerals, you just can't go wrong! Made for toddlers, ages 1 to 3, they will absolutely love the yummy vanilla flavour, and you can feel great knowing that they are getting an adequate supply of all the nutrients and vitamins they need!
Limit of one sample per household. Please allow 4-6 weeks for delivery.
Expiry: While supplies last.