Canadian Freebie: NeilMed Canada NasoGel Spray (Mail-in Rebate)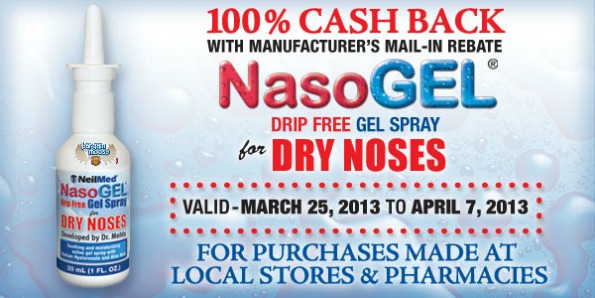 NeilMed Pharmaceuticals Canada has a fantastic mail-in rebate that will give you a full refund when you purchase NasoGel Spray.
NeilMed is all about healthy noses! Their products are very effective, and they regularly offer mail-in rebates or coupons that are very valuable. This current rebate is for NasoGel Drip Free Gel Spray.
This spray is made out of saline and is totally drug free. It is made to hydrate, moisturize and lubricate your dry and irritate nasal passages. The dry air in the cold winter weather is a common culprit of nasal dryness.
Other uses for NasoGel include:
Allergies
Colds
Sinusitis
Oxygen Therapy
CPAP Machines
There are two ways you can redeem your cash back rebate. You can print off the form, and mail it, along with a copy of your receipt. Rebate offer must be postmarked within 30 days of when you made the purchase.
The second, more convenient method, is by submitting your request online. All you have to do is take a picture of the receipt, upload it, and fill out the required information. By submitting your rebate online, you can also track your rebate with the confirmation number you are given.
This mail-in rebate offer is valid on purchases made between March 25th, 2013 and April 7th, 2013.