Canadian Freebie: 3 Free Atkins Chocolate Bars, BOGO Coupon & 2 Weight Loss Guides @ Atkins.com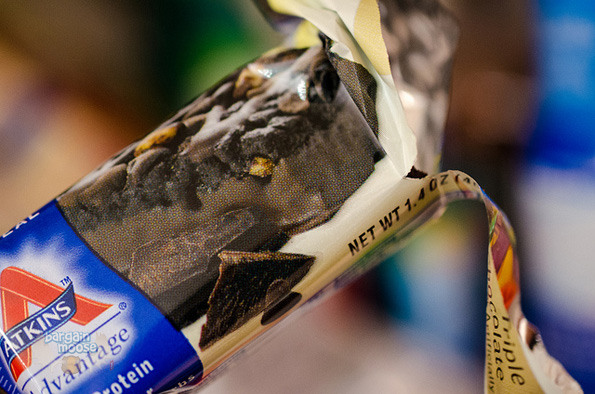 Striving to lose weight this year? Snacks are important and right now, you can try Atkins products for free. Sign up to their site, to get a free diet quick start kit.
Losing weight sucks but you don't necessarily need to hit the gym to do it. It's different for everyone and if you have tried plenty of other diet plans, then maybe the Atkins one may just be the one for you.
I have to admit that I have never tried it myself but it's definitely tempting as I still have quite a few of post-baby pounds to lose. It doesn't help that I refuse to part with my unhealthy snacks but perhaps the Atkins way may just help.
To get your freebies, all you need to do is fill in your information like your name, address, email, along with a username and password. Once you hit submit, the following will be mailed to you:
3 chocolate bars
Atkins carb counter & acceptable foods list
Atkins step-by-step quick-start guide to weight loss
Although the picture on Atkins' site doesn't show it, a BOGO coupon should also be mailed to you.
For those of you with allergies, keep in mind that these chocolate bars contain soy, peanuts and milk allergens. If you wouldn't be able to eat these, then you could get the freebie anyways for the free guides and just give away the chocolate bars.
Finding a review of the Atkins chocolate bar proved more challenging than I thought it would be, but here's one I found at About.com:
I've lost 27 pounds in 3 months so far, and couldn't have done it without the Atkins Peanut Butter chocolate bars! There are times of the month when I HAVE TO HAVE chocolate and one bit of sugar would have pushed me off the wagon. The first time I got one I thought it was going to be terrible (I've tried ""sugar free chocolate"" before, and it sucks.) and I was VERY pleasantly surprised. They're delicious! Not at all like I expected and very fulfilling.
Atkins is a weight loss program that I have heard of before on numerous occasions but I have never been particular familiar with the specifics. as it turns out, it's essentially a low-carb diet that enables ketosis, which according to Wikipedia: "switch[es] the body's metabolism from metabolizing glucose as energy over to converting stored body fat to energy".
Even if you don't plan on jumping on the Atkins bandwagon, you could stash the chocolate bars in your pantry or car as an emergency snack when there is nothing else to munch on. ;)
(Image Credit: m01229)
(Expiry: Unknown)