Canadian Free Stuff: 4 Free Pedometers From The Shoe Company!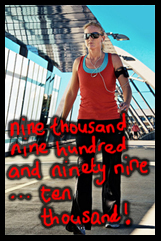 Want to know how many steps you take when you do your grocery shopping at the supermarket? Or how many steps you have taken simply walking around the house all day?
This is a great printable coupon from The Shoe Company. They're giving away free crystal light pedometers – up to 4 per family!! The coupon also says "while stocks last," so I'd try and use this one as soon as you can.
The coupon is currently redeemable in all the Ontario stores, but won't be usuable in the rest of Canada until the 26th of November 2008.
According to Reuters, "People who use a pedometer to measure how far they walk lose more weight." Interesting!
Thanks for the image swissphoto australia.