Canadian Free Stuff: 2 Week Free Trial Of Activia Yogurt!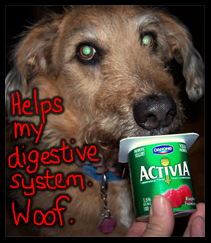 Quite a decent freebie here! If you'd like to sign up for 2 weeks of free samples of Danone Activia yogurt, just go to the site below, and fill in your details.
Where

: Online @ Activia.ca

What

: Free 2 week trial
So Activia is one of these "probiotics" yogurt fandangles. I don't know if they really do much for you or not. On the Activia website, they say that it has "beneficial effects on colonic digestion." Well, I really don't know if this is true. I've tried various probiotic substances and they don't make me feel any different.
There's quite an interesting blog post on johnrobe.com about his comments on the Activia commercials. There were a few comments about the laxative properties of the Danon Yogurt!
Have you used this product? Did it help your colonic digestion!?
Thanks pannamoo!