Canadian Coupons: Orange Julius Free Light Smoothie!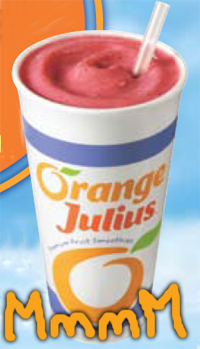 On June 19th 2009, Orange Julius stores are giving out free smoothies to any one who wants one – it's Free Light Smoothie Day!! All you have to do is print and present the free coupon below.
The Orange Julius flavors you can choose from:
I think I'll go for the Strawberry one! Smoothies are delicious, they are a great snack. They fill you up and are nice and healthy, that's why I like them.
I am posting this Orange Julius freebie quite far in advance just so you know about it and can scratch the date into your diaries. Then I will bump the post closer to the date in question. :)