Canada Dry Freebie: White Tea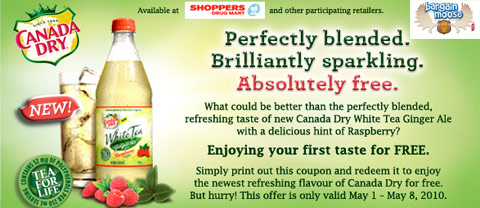 Great freebie for you guys! You can get a totally free bottle of Canada Dry White Tea Ginger Ale, with this printable coupon!
Print out the coupon, take it to a store with you and claim your freebie. The coupon says you can redeem it at Shoppers, but possibly other retailers too. The printable coupon is valid between the 1st and the 8th of May 2010.
Terms:
Valid for redemption in Saskatchewan, Manitoba, British Columbia, Alberta, Ontario, Yukon, Northwest Territories, Nunavut and Newfoundland & Labrador only.
This excellent printable coupon for a freebie was sent to me by Barginmooser Emma. Thanks!