Woolovers Coupon Code: Free Shipping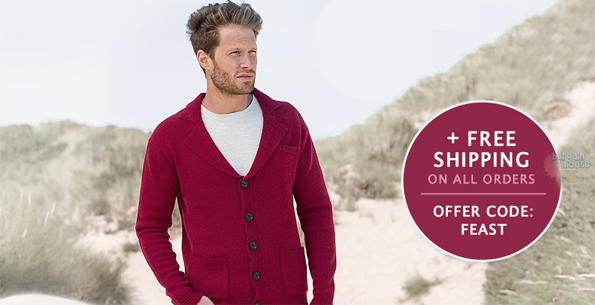 If you're interested in any of the fine cashmere cotton and wool items from Woolovers.ca, now would be a good time to make an order. They've released a coupon code for free Canadian shipping on any order, no minimum spend required!
Click here to use the Woolovers coupon code online now
Coupon Code: FEAST
Discount: Free shipping
Expires: 26th September 2014
When you are going through the checkout, apply the above in the "offer code" section at checkout and you will see the "international standard" shipping cost of $10 drop down to zero – a $10 saving.
The coupon code above even applies to items in the special offers shopping section on their site. I'm going to focus on some of the dude's bargains in this section, here are a few of my picks:
As some of the items above are unisex, I have a daring suggestion to make. If you are in a relationship, how about buying TWO of the same sweaters, getting one each? You could buy it in a different colour each… but I think matching sweaters would be very cute… no?
Customs & Duties Info
Usually you have to spend $150 for free delivery from Woolovers.ca. Getting free shipping on any order is fantastic – it means you can have a browse of the site and buy anything you like without worrying about pesky shipping fees. However, even though Woolovers are operating on a Dot CA domain name, they are not a Canadian company. Their orders ship to you from outside Canada, but customs and duties are not covered at checkout. There's a small chance that you may have to pay extra fees at your door to receive your items.
As you're getting free shipping with no minimum spend using this coupon code, I would really recommend to only place orders of one item each. If you want multiple items, place multiple orders. I think that there's less chance that you will get hit by customs if you do this. Plus, you're not doing anything wrong… just placing individual orders, to minimise the risk of paying extra fees.
If you experience any issues, or make an order from Woolovers, let us know how you get on in the comments below please!