Well.ca: 40% Off Blue Banana Urban Pod in Pink - Now Just $55 & Free Shipping (EXPIRED)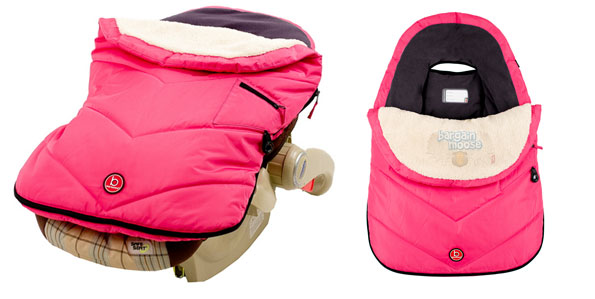 Well.ca's Overstock Sale is back and browsing the various reduced items, I spotted a great deal on the Blue Banana urban pod in pink. Originally priced at $92.96, it's now on sale for just $55, which is significantly less than the price it's going for at other stores! Shipping is free as well.
At the very end of Well.ca's description of this pod, there is a very interesting note:
Note: Car seat not included.
I found this absolutely hilarious and it just made me wonder the kind of complaint that they may have received from a customer who didn't receive their "expected" car seat. They're probably just covering their bases to avoid any unhappy customers but it was still funny to read that note!
Summer is upon us and this is a winder pod but it would be perfect for all those of you who are currently expecting or know someone who is. A lot of parents switch from the bucket seat (pictured above) to the convertible car seat that always stay in the car early but a lot of bucket seats can actually be used until the baby is one year old or more. In fact, my car seat can hold up to 30 lbs and we're still using it even though our baby is nearly one year old! The reason I mention is because even if you're baby was recently born or is about to be born, then this cover could potentially be used this winter. :)
Any baby sure to not get cold in this thing as it features ultra-soft sherpa fleece on the inside. It has a no slip back panel and a full zipper to keep baby in place. Interestingly enough, it also comes with a fully functional thermometer and a pacifier pouch. While the pacifier pouch definitely seems handy, I'm not so sure about the thermometer, but it's still a cool feature.
As I already mentioned, the Blue Banana urban pod is significantly more expensive at other stores:
(Expiry: 19th April 2015)