Waverly Dress Was $50 Now $21.24 With 15% Off Coupon Code & Free Shipping @ Roxy.com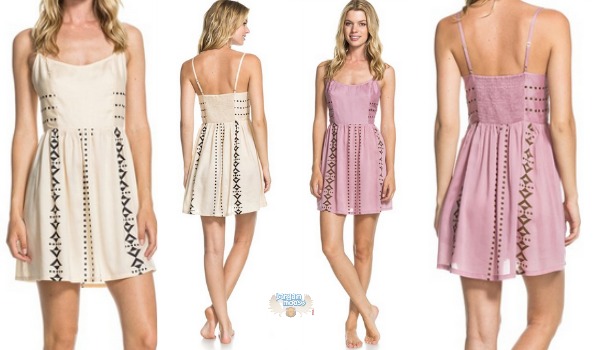 Roxy has some great summer items on sale right now. While I was browsing, I found this beautiful dress for summer, the Waverly Dress. This dress was originally $49.50, is on sale for $24.99. Use our exclusive 15% off coupon code and that dress drops down to only $21.24! Roxy also offers completely free shipping.
This coupon code works a little bit different than the codes we normally see here at Bargainmoose. If you click on the link right now for the Wavery Dress you will see that is on sale for the price I listed above. Make sure up at the top of your browser, the country is set to Canada for correct pricing and offerings.
To apply the coupon discount, head over to our Roxy coupon forum and click the link for the exclusive 15% off coupon. Once you do, it will apply 15% off every item on the site. This does mean that after you click the link, you will no longer be able to see the original retail value on sale items. The prices will show you first the sale price, then the price of the item with the applied coupon code. You may want to browse first before you click the coupon link. This exclusive discount will only be applied to one item. If you pick up two items, one will revert to the original price in your shopping cart. You can always separate your order into multiple orders to receive the discount if you want multiple items.
I was browsing at Roxy and found the beautiful Waverly Dress. This cute dress is available in two colours, a light mauve and a white. The dress has a beautiful geometric pattern on it and spaghetti straps for a breezy look. The stats say that the dress is 33 inches long. In the reviews, one women who is 5"1 high says the length is perfect for her to help give you a reference point.
This looks like the perfect dress to throw on over your bathing suit after the pool or beach. I would throw this on and head to grab a bite to eat or a beer after some fun by the water. There are many sizes still available for this dress:
Mauve: extra small, small, medium, large, extra-large
White: extra small, small, medium large
Shipping is completely free for any orders to Canada from Roxy. Roxy does ship from the US, but any applicable duty fees should show up at checkout. Roxy waives duty fees for any item under $20. When I put this item in my cart and headed to the checkout, it looks like they waived duty fees for this dress also. I took the item all the way up to right before the final confirmation with no duty fees added.
Grab this dress now just in time for summer fun, before your size runs out. This dress is the perfect outfit for that festival you were planning on heading to this summer.
(Expiry: Unknown)