Walmart Canada: LEGO Clearance Items up to 75% Off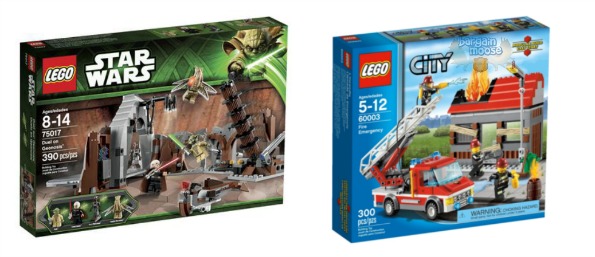 Over the course of the summer, my 4 year old son will be attending quite a few birthday parties and his age group is really into LEGO.  I loved LEGO as a kid but I cannot believe how expensive it is now to buy!  Just these birthdays alone could cost me an arm and a leg for the gifts so I have been searching for some deals on LEGO.  I found a bunch of it on sale over at Walmart Canada with LEGO sets up to 75% off the regular prices right now!
This is not necessarily a sale at Walmart but I just happened to find over 50 LEGO sets on clearance, which is pretty incredible. When I was growing up, you could buy a few cases of LEGO and build a ton of things.  Now the big thing is buying these LEGO sets and building little cities and things from movies.  The super hero LEGO is pretty huge right now as well as the LEGO city sets and the CHIMA sets.
Here are a few of the LEGO clearance deals you will see:
Some of these deals are so hot, they are selling out pretty quick online.  To be honest, I am looking to stock up for Christmas gifts with some of these awesome deals.  My son already has the first one I mentioned above (the LEGO surfer rescue) and he loves it.  He even takes in in the bath tub with him to make the surfer guy swim away from the shark!
I love the creativity that develops through playing with LEGO and it is no longer a "boys toy" now.  They offer LEGO friends that are actually geared towards girls.  I think this option is great! It helps with fine motor skills, problem solving skills and is actually and educational type of toy.
You will notice that each LEGO set has a different age range on them and that has to do with the difficulty of putting the set together.  My son is 4 years old and can do the sets that are 6years old- 12 years old just fine so I think it will depend on your child.
Since Walmart Canada has no minimum charge for free shipping, you will be able to purchase any of these LEGO sets and not have to pay a penny for the cost of shipping.
(Expiry: Limited Time Only)