Walmart Canada: Fisher Price Little Button 3-Pc Crib Set On Clearance - Just $59!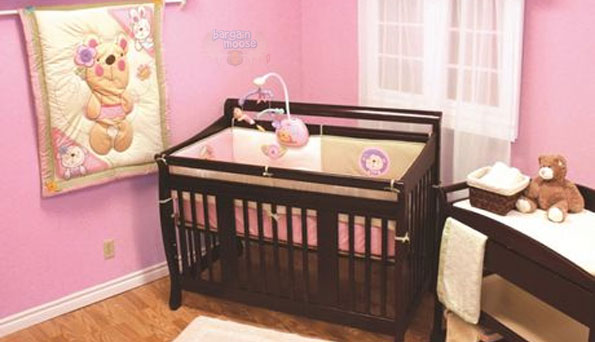 In the midst of decorating a nursery? Then check out this awesome deal: at Walmart right now, you can get the Fisher Prices "Little Buttons" 3-pc crib set on clearance for just $59. It was originally priced at $126.
If after clicking on the link above, you don't see the big green button with the word: "add to cart", then try refreshing the page a couple of items. I encountered that same issue upon first clicking on this crib set, but a couple of refreshes fixed everything.
This crib set features a teddy bear as its theme and would be perfect for any little girls' nursery as it's hot pink. It comes with:
1 comforter
1 bumper
1 fitted sheet
All of the pieces are made from 100% cotton and may be both machine washed and dried. It is widely known that bumpers aren't recommended for cribs, but this one is a versatile one in that it may be used as wall art, a valance, wall art, etc.
Although it features a $126 regular price, this same crib set is actually currently $149.99 at both Best Buy and Future Shop. Plus, most crib sets usually retail for over $100, so what makes this a good deal is not only the price but also the fact that it's all-cotton.
Alternatively, I also found another really good deal on a nursery item at Walmart. It's in a different style from the aforementioned crib set but if you prefer it, then it's definitely worth buying ASAP. The Fisher Prices "My Little Lamb" valance is currently on sale for just $9 instead of its regular price of $35.78, which means that you're looking at 75% in savings! If, like me, you're confused as to what a valance is, let me explain. It's essentially that cute and frilly part that goes on top of any window instead of full-scale blinds. This valance in particular is polyester-cotton and already has 2" rod pockets. Although not currently in stock, this same valance retails for $21.24 at Sears.
As usual, Walmart also offers absolutely free shipping, so you won't have worry about any additional fees. I frequently order from Walmart and all of my purchases always arrive quickly.
(Expiry: Unknown)