Walmart Canada: $20 Off Sealy SweetPea 2-In-1 Maternity & Nursing Pillow - Now $15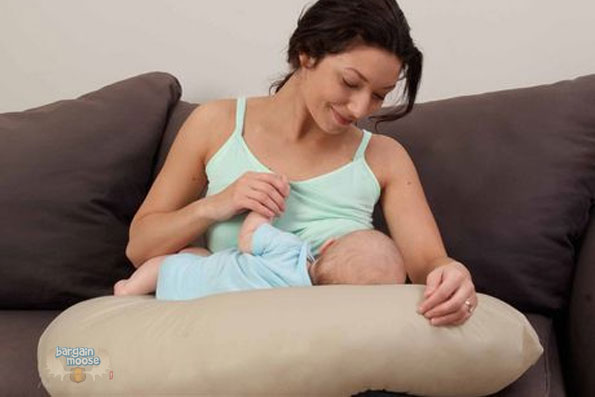 Walmart has a great deal on a nursing and maternity pillow! For a limited time, you can get the Sealy SweetPea 2-in-1 maternity and nursing pillow on clearance for just $15. It was originally priced at $34.97.
I have a very similar pillow to the Sealy but it's the Jolly Jumper Boomerang nursing cushion and I actually paid $59.99 for it. I was pretty desperate for one at the time, and didn't do much price comparing. In hindsight, I would have definitely preferred to get the Sealy because not only is it cheaper, but it also looks very similar. It would also seem that people tend to have a love hate relationship with this pillow. While it has great reviews like this one:
This pillow is a VERY comfortable pillow. I am a 5"4 thin woman and this pillow technically is too big for me but it's flexible so you can wrap it right around you no matter what size you are. I sleep with it and use it for everything including back support.
...there are also a couple of negative ones stating that it's not as comfortable as they would have liked, or not as long as on the picture. In either case, for $15, I'm rather certain it will get the job done, especially if you don't plan on using it for long. For nursing, curved pillows like this one are definitely the best as they make it that much easier to have the baby nursing while you have your hands free to do something else, like play Candy Crush on your phone! ;)
Price Comparison
Although there are only a couple left, I found this same pillow at Amazon for as high as $67! Toys R Us doesn't have this one and doesn't even have any in stock right now that are both maternity and nursing. They have the Babies R Us nursing pillow for $29.99 and the Leachco Snoogle total body pillow for $69.99. From personal experience, I can tell you that it's definitely worth having a pillow that can be used for nursing after pregnancy because unless you have a lot of storage space, you simply won't know where to store your old maternity pillow for the next time you get pregnant and if you don't plan on having any more children, then you will have no use for it after labour.
Even better is that shipping is absolutely free as well! You won't have to worry about having to add anything else to your order to reach any ridiculous shipping minimum.
(Expiry: Unknown)