WagJag Canada: General Mills Protein Pack Deal For $12 & Free Shipping (Save 65%)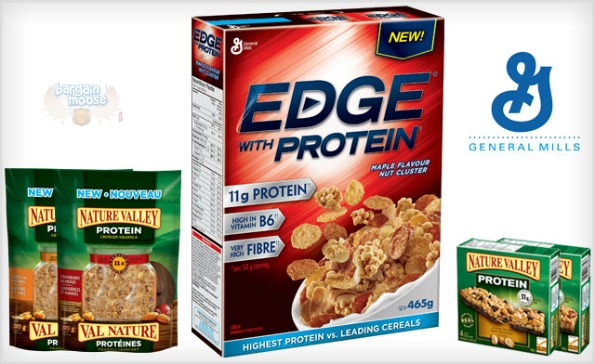 I check every week at WagJag Canada for their grocery deals because sometimes they have a really good one.  This is one of those times.  You will be able to get a five piece General Mills Protein Pack deal that would normally cost you $34 for just $12 and get free shipping as well!
Here is what you will get with this deal:
two bags of Nature Valley Protein Granola in Cranberry Almond and Oat 'n Honey flavours

two boxes of Nature Valley Protein Bars in Peanut Butter Dark Chocolate flavour and Peanut Almond and Dark Chocolate flavour

one box of EDGE with Protein cereal
Each one of these products has 11g of protein per serving which is really great. As for the Nature valley protein bars, I have tried these before and I love them! I often have them after a workout at the gym for that extra boost of protein, and they are very filling.  Compared to other protein bars, they have less sugar in them.  I know this because I spent a lot of time in the grocery store a few months ago wanting to find a good protein bar with low sugar, and this is the best one I found.
Both the EDGE box and the bags of Nature Valley protein granola are not even available in stores yet! This is the only place you can actually purchase them to try because they will not be sold in stores until June 27th 2014.
As I said above, the shipping is absolutely free, so there will be no additional charges to your order. You will be able to buy up to three of these deals per person. This is the time to stock up on them for snacks, camping and an after the gym protein boost like me.
(Expiry: 15th June 2014)