Up to 94% Off Cosmetics & Free Shipping @ My Makeup Brush Set TODAY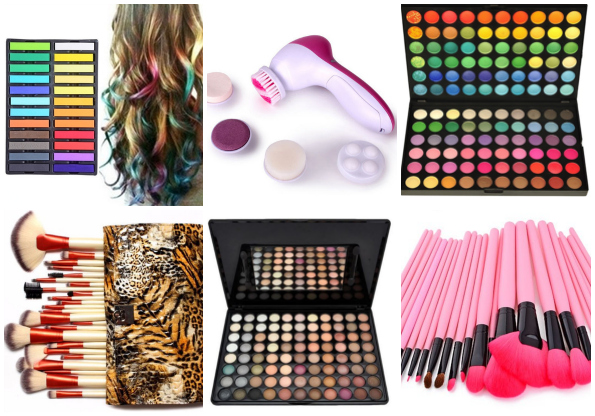 My Makeup Brush Set has a rare coupon code for free shipping today only. This is the best time to take advantage of their deals on cosmetics, tools, and accessories. I found makeup up to 94% off on their website - so you are sure to score some pretty sweet deals when you shop today.
Click here to shop @ My Makeup Brush Set Canada now
Coupon Code: BFFS
Discount: free shipping
Expiry: 14th December 2015
The ProFour Eyeshadow comes with three eye shadows and a shadow brush. I am not terribly familiar with this brand, but it appears to be decently high end as the original price was $159.96 and it is now on sale for $9.99.
Gifting makeup can be hard as you never know what colours will look good on a person. That is alright, this Warm 88 Palette has you covered. The set includes 88 full colour eyeshadows sure to please any makeup lover. Originally $119.96, this set is on sale for $17.99. In my opinion, this is also the most attractive eyeshadow palette they offer.
If you want to experiment with a new lip colour, there is no better way than with the 66 Colors Lip Stick Palette. If you tried just one new lip colour a day, this palette would take you over two months to go through just once. Originally $119.96, the palette is on sale for $29.99.
I personally do not wear a lot of makeup, but I do like to experiment with non-permanent hair products. These Multipurpose Hair Chalk Pastels are an amazing deal - trust me on this! Originally $48, they are on sale for just $12. I paid that price for just six sticks of hair chalk and this set comes with 24 sticks of chalk in a rainbow of colours. This would make an amazing Christmas gift for kids and for adults.
You can also buy some of the most gorgeous brush sets for such a great price. This Tiger Print 24 Piece Brush Set is on sale from $150 down to $29.99. I like this set because my Chinese astrological sign is the tiger.
This Hot Pink 24 Piece Make Up Brush Set is an amazing purchase for anyone in love with the colour pink. Originally $199.99, the set is also on sale for $29.99. There are really so many beautiful brush sets in different colours that give you everything you need for any type of makeup at a reasonable price. You can pick up all the makeup you need as well in this sale.