Unmentionably Cheeky Coupon (US): 2 Panties for $6 Monthly Subscription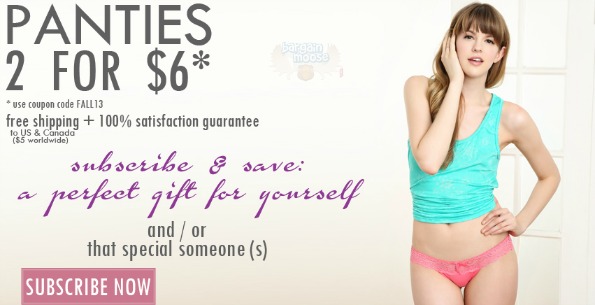 Unmentionably Cheeky is a really wicked panty subscription company out of the USA that offers two panties per month for only $9. However, they currently have a coupon code to take $3 off that subscription price so you get two pairs of panties per month for only $6. Shipping is free to Canada and there is no duty on that inexpensive of a package.
Click here to check out Unmentionably Cheeky now
Coupon Code: FALL13
Discount: $3 off monthly subscription
Expiry: Unknown
Once you subscribe with the coupon code you will lock in the two panties for $6 a month and your cost will not go back up. I absolutely love this idea of an inexpensive panty subscription service because it is the perfect gift for yourself, girls, and for someone you love. My underwear drawer is rather healthy right now but I am planning on *shhh, don't tell* getting this subscription as a gift for my mother.
Before buying for yourself or for someone else, make sure to consult the company's size chart here to make sure you order the right size.
Once you have re-stocked your underwear drawer and find yourself overflowing in the land of panties, you can cancel your subscription through here. Just make sure you do so at least five days before your next billing occurs.
Is it time to revamp your underwear drawer?