Try Proactiv & Receive Extras & Free Shipping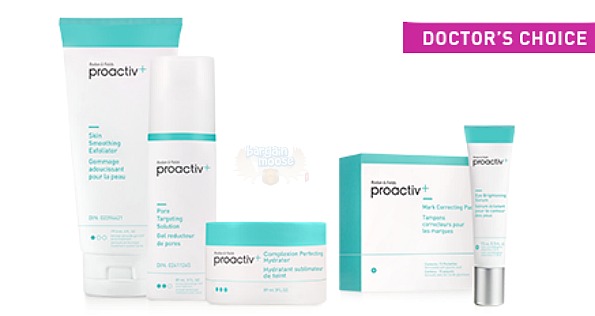 Proactiv.ca has a really great offer happening right now for first time clients. You can get a one month supply of Proactiv with free shipping and free gifts for just $29.95 for a limited time only.
The Proactiv set is a 30 day set and includes the following:
Skin Smoothing Exfoliator
Pore Targeting Solution
Complexion Perfecting Hydrator
Two Free extras
Free shipping
The cost of this 30 day set is just $29.95.  You can choose another set that is priced at $39.95, and it comes with two additional items. This set also includes the Mark Correcting pads and Eye Brightening Serum, making it a pretty great value.
I have been fortunate enough that I haven't had any issues with acne in my life, but I have many friends and family that do. My sister has dealt with acne for years, since she was a teen and it continued right into adulthood.  When she was engaged, she decided to try the Proactiv system because she didn't want her wedding pictures to be ruined by pimples. I could not believe the difference it made with her skin.  Not only did she have no more issues with acne, her skin looked beautiful. She has been using it ever since and swears by it.
Extras:
There are two great extras to get with your purchase right now.  The first one is a skin purifying mask.  It is a potent deep-cleansing sulfur mask, formulated to clear acne blemishes and help prevent new breakouts from forming. The second free gift is an eHandbook.  It is a guide written by the creators of Proactiv about great skin care.
Shipping:
Normally, the cost of shipping for your Proactive set is $3.99 a month. For a limited time only, you will be able to get free shipping on your first order.  If you choose to keep using Proactiv, all months after will be $3.99 for shipping.
You will just have to remember that this is an auto-renewal subscription to Proactiv, but you can cancel it at any time.  If you want to cancel, you just make a note to do so within the 30 days.  They also have a risk free 60-day money back guarantee refunding your entire purchase if you are not completely satisfied. This is just another great reason to try out Proactiv!
(Expiry: Limited Time Offer)