Trade Secrets: Macadamia Moisture Trio Was $69 | Now $40 & Free Shipping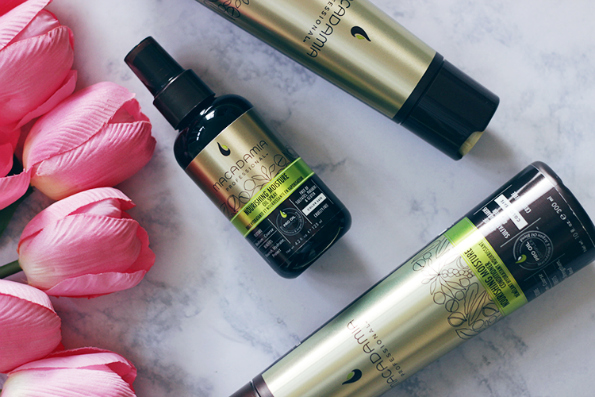 Hair care is just as important as body care and we have a lovely little deal for you at Trade Secrets. Right now, they have discounted the Macadamia Moisture Trio from $69 down to $39.95 for three different hair types. Choose from the Macadamia Nourishing Moisture Trio (medium), Macadamia Ultra Rich Moisture Trio (very course), and Macadamia Weightless Moisture Trio (baby fine) kits to pamper your hair. Receive free shipping on all orders as well.
Each 'trio' actually comes with four products. You receive a 300ml bottle of shampoo, a 300ml bottle of conditioner, a 100ml conditioning mist, and a Healing Oil Infused Comb. Each set comes with each of these products that is tailored to a specific hair type:
Nourishing Moisture - Medium hair
Ultra Rich - Very course hair
Weightless Moisture - Baby fine hair
The additional comb is pretty cool too. It is a comb made out of resin that has Macadamia Healing Oil Treatment infused directly into it. The result is a detangling comb that easily removes the most aggressive knots in your hair. It is a super cool bonus to the trio of hair products.
I could not find these trio-gift sets anywhere else in Canada, so I decided to compare individual products. The 300ml bottles of shampoo and conditioner retail for $24 each = $48. The conditioning mist costs $12 for a 100ml bottle and the Healing Oil Infused Comb costs $9 when purchased separately. In total, the value of this gift set is $69 - exactly what Trade Secrets have the original price as. Therefore, you know you are getting a good deal when you could not even buy the 300 ml shampoo and condition for the price of the entire set.
Hair products are one thing I do not skimp on. I have really thick, silky hair and I keep it that way with quality products. I use shampoo about twice a week (though I do a double-shampoo when I wash) and conditioner once a week. The rest of the time, I let my hair's natural oil take care of it. As i am growing my hair out, I find that I use twice the amount of shampoo I used to so deals like this are pretty important.
(Expiry: Unknown)