The Shopping Channel: GO SMiLE Smile Whitening Light System $77.68 (Reg. $179)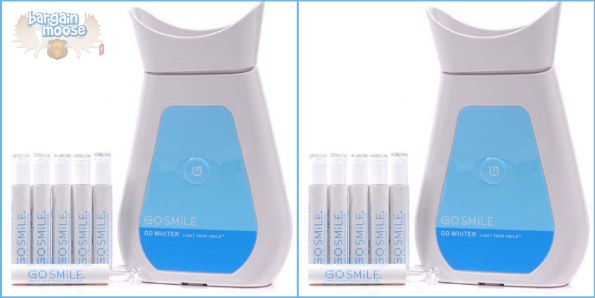 I like white teeth, but it is not always easy to keep them that way. If you love very colourful food and drink (or tea, coffee, wine) your teeth will tend to stain. GO SMiLE has a teeth whitening light system that you can use at home, instead of expensive visits to the spa or dentist. The GO SMiLE Smile Whitening Light System is on sale for $77.68, regularly $179.
The system comes with 6 vials and the light system (with pre-installed battery) so you can get your whitening at home. As someone who has home for whitening before - I think it would be so much simpler to just do this at home. There is nothing like sitting on a chair in your local spa with a glowing thing stuck in your mouth.
Here is the most recent review for the product:
My husband and I both whitened our teeth a couple of weeks ago and we were both pleasantly surprised; the process was simple, quick, there was no tenderness or sensitivity and our teeth were noticeably whiter! We used only 1 ampoule each so we still have 4 ampoules left for future whitenings which is great. The ampoules that come with this kit are much more potent than the touch up ampoules I'm used to (from Go Smile). Considering you'll get 6 whitenings with this kit it's good value for your dollar.
The product comes with free shipping as well.
Expiry: Unknown