Teething Baby?! Amber Teething Aids from $15 + 10% Off with Code & Free Shipping on ALL Orders @ Vitarock!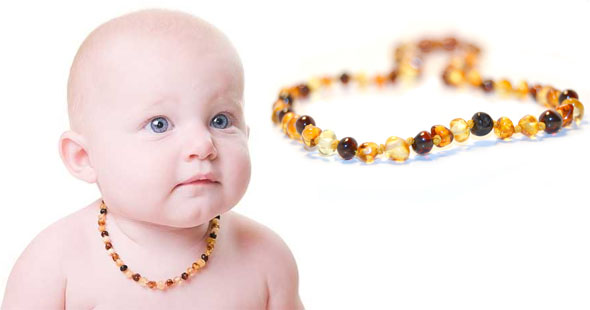 If you've got the energy, raise your hand if, like me, you have a tiny human in your house who's miserable because they're teething. I think amber jewelry might be the next stop to try to bring some relief to my poor little guy. I was excited to come across some very well priced amber teething jewelry at Vitarock and then ecstatic to see that they're offering free shipping on every order! And to sweeten the deal even further, I took a peek in our Coupon Forum and found a code good for 10% off your order! Just enter MOOSE10 at checkout.
I think we've tried everything at this point - frozen milk and fruit, cold washcloths, cold spoons, our fingers, teething toys... When I first started looking at amber jewelry, a lot of the prices I saw were outrageous but Vitarock has these ones by Vivo Valeo very well priced. The 15 cm Amber Baby Teething Bracelet is just $14.99. Normally you'd have to spend at least $25 at Vita Rock (which is a very reasonable minimum spend to begin with!) but right now, this order would ship for free! There are also four different necklaces available for $21.99 each: Honey & Cognac, Multi-Coloured, Milk & Honey and Raw Amber Multi-Coloured. They also have informative guides to help with your purchase such as Are You Buying True Amber?
Vitarock has an entire section of Natural Remedies for babies and kids; you can narrow by health condition on the left-hand side, which is super handy. Given the time of year, I'll be bookmarking the kids' cough and cold section!
Tell me, Moosers: what are your tried and true teething remedies?