Star Wars Heat Change Light Saber Mug $9 @ Amazon.ca, Free Shipping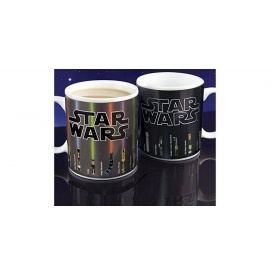 This Star Wars Lightsaber Heat Change Mug Magic Cup selling at Amazon.ca for $9 is something I bet any Star Wars fan would enjoy, for their warm beverages. When I saw this cup I definitely wanted to get a couple—years ago we had a 'Phantom of the Opera' cup with features similar to this, but this cup has light sabers that 'light up' with colour once you fill the cup with a hot beverage. You have to take a look at the picture to see how cool it is. The light sabers are labeled, too, with the names of the characters associated with it.
This really is the ideal cup for kids who are into Star Wars, and it makes a great gift. I would recommend filling this with warm milk for your child a while before bed... you know, so the tryptophan in the milk kicks in and helps them fall asleep faster. ;)
This item has free shipping, and estimated shipping time is 10-20 days, but it should be noted that this ships internationally from a third party seller and is not an "official" Disney product. Still, way cool.
(Expiry Date: Unknown)