SportMart discounts: $10 off & free shipping for your first online shopping order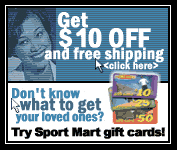 Join the free VIP program online at Sport Mart, and they will email you out a coupon code which you can use to get you $10 off your first purchase of $99 or more. As you're spending $99, you also get free shipping within Canada too! To claim this, just click the "$10 off first purchase" link to the right of their home page.
The VIP program isn't anything special, it just signs you up to their email newsletter list, you don't have any hidden charges or anything. I was worried, because to me, "VIP" means you are signing up to some sort of subscription service!
As a Sport Mart VIP you'll receive:
Free shipping on all orders over $99
Special VIP discounts during specific sale events
Bonus Gifts and Coupon offers
Electronic notice of all major sale events
Hassle-free returns
Personal service, great selection and our lowest price guarantee
They sell loads of sporting goods which would be great to get a little bit of extra discount on, from bicycles to golf equipment!
- Anna