Shop.ca: Mamas & Papas Morph Pod Was $180 | Now $84 & Free Shipping *LAST DAY FOR COUPONS!*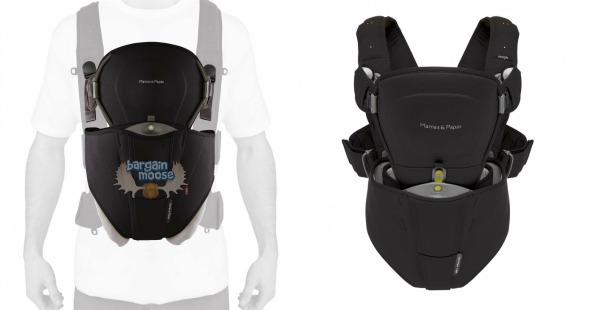 Today is the last day to use our exclusive Shop.ca coupon codes that could save you up to $150 off your purchase. I found a super hot deal for all the new parents out there when using one of the coupon codes - MOOSE50OFF125SEPT - which gets you $50 off $125. Check out the Mamsa & Papas Morph Pod, which is originally $179, on sale for $134.25 and comes down to only $84.25 with that coupon.
I wish I knew about the Morph Pod when I had little babies!From the brand Mamas & Papas, which is a popular U.K. brand, this is more than just a baby carrier. It is a pod carrier that clips on to a shoulder harness, with fully adjustable straps and leg and waist sections for when your baby grows. When you want to clip your baby in, it is super easy and even easier to clip them out and put them right into their crib. You know those days when baby won't stop crying and you have a million things to do? You put them in the carrier, get your stuff done while carrying them and then finally, when they are quiet, it is super easy to put them in the crib to get some relief for yourself.
I remember having a Baby Bjorn and when I wanted to put my sleeping baby down, it was a cumbersome procedure trying to not jostle them out of the carrier without waking them. This is such a great solution.
Just for your own body's sake, it has lumbar support and plump padding with ergonomic straps. This is so important as babies grow like weeds and before you know it your 7lb baby is now 20lbs and that feels like 12 bricks.
Checking around, this is by far the best deal for the Morph Pod and harness. Amazon sells it for $179 from the secondary seller Canada's Baby Store (whose site is down right now so I couldn't check the price there). I couldn't find it at other Canadian stores but in the U.S., it sells for $139.99 at Mamas & Papas. Check out the reviews for this product on their site, as they are mostly glowing!
The colour I linked is dove grey, but there are other colours available. There is one left in stock in the plum pudding and the other colours are all $97.89, which means you can't use the coupon with them, but they are still a great deal if you don't want the grey or purple.
Of course, shipping is always free.
(Expiry: 30th September 2015)