Shop.ca Hot Gadget: Ultrasonic Humidifier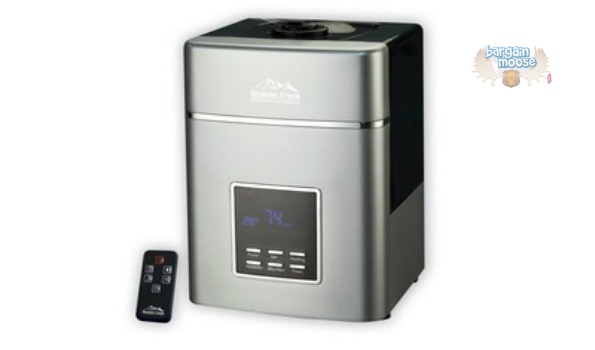 The HF 707 Digital Ultrasonic Cool and Warm Mist Humidifier with Negative Ions is a top selling hot gadget. It is on sale right now on Shop.ca for $114.95, regularly $139.
This is known as the only humidifier you will ever need to make the dry and sick months liveable! With high-frequency vibration technology, a micro-fine mist is created and then immediately evaporated to provide moisture to the air. This machine is compact, ergonomic and completely silent. The filter controls dust, bacteria and mold and is permanent and rechargeable. Easy push button controls let you easily adjust humidity levels and mist control, including whether you want warm or cool mist. I love that one refill of the 1.6 gallon tank can humidify large rooms for up to 120 hours!
Don't know why you would need an Ultrasonic humidifier? Humidifiers help you sleep and breathe by eliminating the dry air in the room and replacing it with moist, optimally humid air. This reduces dry skin, cracked lips and noses and static electricity. When the air is dry you also increase your chance of getting sick by having dust particles, bacteria, viruses and dust mite feces trapped in your dry nose. The Ultrasonic technology breaks the water into tiny particles and then blows them into the air to evaporate and increase the humidity level.
This is a great machine and I would say a must have!
Shop.ca offers free shipping and free returns.
Expiry: Unknown