ShoeMe Outlet Canada: Kids Hunter Rain Boots Were $90 | Now $36 & Free Shipping (EXPIRED)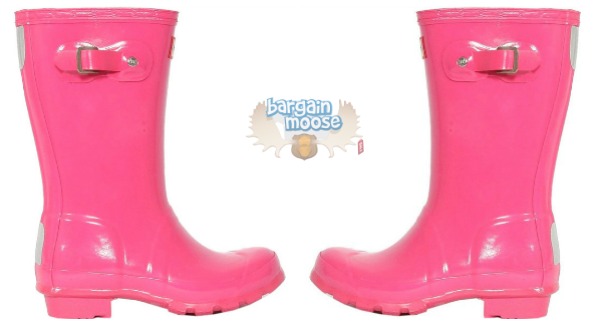 ShoeMe's Outlet is having a huge Friends and Family sale and is offering 50% off of already discounted items with the coupon code FRIENDLY50. I found a phenomenal deal on a few different footwear items but I wanted to draw your attention to these girl's original gloss Hunter boots in fuschia. Regularly $90 and on sale for $72, they come down to $36 after coupon code. ShoeMe always offers free shipping.
I believe these boots are going to go super fast.There are only two sizes available toddler 10 and 11. In the size 11 there are only 3 pairs left. It's funny because those two sizes I find my kids last longer in. For example, they fly through all of the sizes from 9 and under, but their feet seem to stay at size 10 or 11 longer than those previous sizes. I wish my littlest man was a girl as he is a size 11 and this is a great deal! Ok, I don't wish him a different sex, but I'd love to get these boots anyway!
Hunter Boots actually sells these boots on sale for $77. I have not seen Hunter boots at this low of a price maybe ever??
While you are it, you might as well see what other footwear there is for the family. For some reason the search by size feature is not always showing up for me and adult shoes are showing up in the kids section. This sounds just like any other outlet store where you have to do the work to find the deals!
These Stacy Adams boys porter shoes are a fabulous deal if your child needs a dress shoe (Christmas is coming!) in size 12. Regularly $55, on sale for $29.99, you'll get them for just $15!!
If you've got a baby, you will want to check out the My Mocs by Jack & Lily. Regularly $28, these Robeez-like baby shoes are on sale for $19.99, but come to $9.99 with the free shipping on top after coupon. Sweet!
(Expiry: Unknown)