Sears Canada: KitchenAid 5-Speed Stand Blender Was $150 | Now $77 & Free Shipping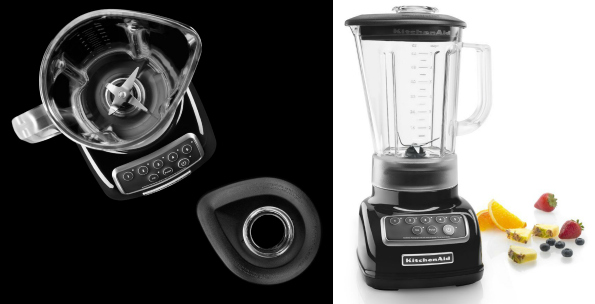 More smoothies are part of my New Year's fitness resolution - they are an easy way to load your diet up with healthy fruit and vegetables as well as supplements. Originally $149.99, this KitchenAid Classic 5-Speed Stand Blender - Black is on sale for $86.94. Use the $10 off coupon code 941612528 to bring your KitchenAid mixer down to $76.94 with free shipping.
This KitchenAid stand mixer is everything you need to make the perfect smoothie, puree, or drink. The stand mixer has five speeds including an ice-crush mode and a pulse mode to power through tough chunks. The 56 oz pitcher will hold enough ingredients to make smoothies for the entire family. I have a smaller pitcher and it still makes way more than two people can drink!
The pitcher is BPA free, which also means it is made of plastic. Do not worry about its fragility, this pitcher is shatter-, scratch-, and stain-resistant and it is dishwasher-safe for easy clean-up. The pitcher will lock in place while on the base. The base is also extremely durable as it is a die-cast metal base. This prevents your blender from doing the old 'shimmy across the counter top' while blending.
I like this stand blender for so many reasons - besides the price. The blender has a soft-start feature so your ingredients remain at the bottom. I really wish my blender had this feature: it would make blending so much easier. The Intelli-Speed Motor Control senses contents and maintains optimal speed to blend them all up.
This blender also has a Steel-Reinforced Coupler, which helps transfer speed from the motor to the blades. This is also important for keeping your blender running as it is the one area with the highest wear. If the coupler wears out, then the blades will no longer turn and you have yourself a dead blender.
I own a KitchenAid blender that has been used and abused for many years now - it still runs! I think that is the greatest credit to an appliance, when it still works after years of dedicated service and you forget when exactly you bought it. I actually became super impressed with my blender when a Salton Professional Grade blender started smoking from mixing up a particularly thick smoothie when my little KitchenAid has handled them for years without complaining.
By the way, Amazon Canada has the black on sale for $86.94 but all other colours are $129.99 to $139.99.
(Expiry: Unknown)