Salvage 2 Dress Was $39.50 Now $17 & Free Shipping @ Roxy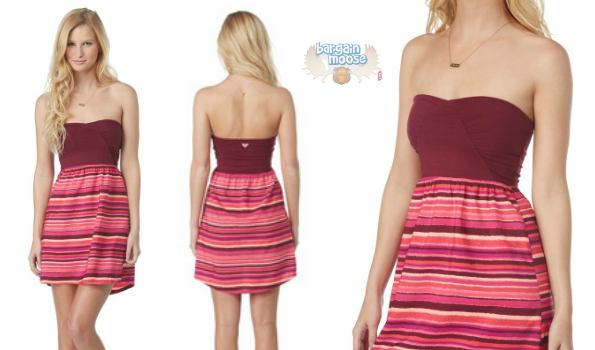 The Salvage 2 Dress was $39.50 but is on sale for $19.99. Use our exclusive link and you can grab it for only $16.99. Free shipping is also included with all orders from Roxy.
The discount works a little differently for this. If you want to see the original price of the dress, click the link to the Salvage 2 dress. To apply the exclusive 15% off you will need to go to our Roxy coupon code page and click the 15% off exclusive link. Once you click, the discount will reflect on all prices across the entire site. The exclusive discount will only work for one item per order. If you add a second item to your cart, one of the two items will revert to the original price in your cart. You could always place two orders if another item strikes your fancy, as there is no minimum order amount for free shipping.
Roxy clothes are perfect if you too are looking for items that are easy for the beach. This Salvage 2 dress is a tube dress with a soft knit on top. The striped skirt looks breezy. You can pick up this dress sizes extra small, small, medium, and large.
I can just see this girl on the beach with a big floppy straw hat and a pair of oversized sunglasses. Maybe she is hanging out on vacation walking along the beach. I can almost feel the sand between my toes looking at this cute dress. This dress will do double-duty for the evening in the summertime. You could easily throw on a cute necklace and a pair of heels to step out for dinner. I think I would be aiming for a little bistro along the water, but it is your summer holiday so you choose the restaurant this time. Just pick some place that had good wine or margaritas, and we will have a great time out.
In the summertime, we spend a lot of time at the pool. My daughter has lessons four days a week. When the weekend rolls around, often we head back for another round of fun swim at the pool, or sometimes we head to a local beach. I need light dresses that can go from the pool, but I do not look silly wearing them for an errand on the way home. I also love dresses that I could still wear out when we are not swimming and this dress fits that description.
Also note that Roxy ships from the U.S., but all duties are prepaid at checkout.
(Expiry: Unknown)