Roxy: 50% Off Desert Island Dress - Now $19.75 & Free Shipping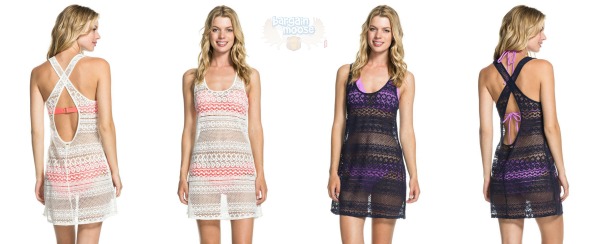 It may be too early to start thinking about summer, beaches, waves, water, and sand beneath your toes... but the good times never end at Roxy. This lovely Desert Island Dress was $39.50 and is now on sale for $19.75 with completely free shipping to Canada.
This is not a dress you would wear by itself - so calling it a dress is a wee bit of an exaggeration. Rather, this is a sweet cover up and becomes a 'dress' when layered with other things. Try layering the Desert Island Dress over shorts and a crop tank for having fun with friends. This dress is totally made for the beach, as it is light, breezy, and gives a peak at what is beneath. Throw the Desert Island Dress over your favourite swimsuit to hit the beach or go for ice cream this summer.
The Roxy dress features criss-cross straps and an open back to keep things cool. These features also provide interesting effects when layered with other clothing. The dress comes in two colours: egret (white) and peacoat, which I think is a blueish purple but it could be either one of those colours with the accuracy of computer screens. Both colours are still available in sizes small, medium, and large.
Now, we are still a bit unclear whether Canadians can be hit with duty on Roxy packages coming across the border. However, you need not worry about that on this dress, as it is under $20.
However, if this dress is not your cup of tea, then I recommend checking out either the rest of the wonderful sale section at Roxy. This Basically Roxy SS Rashguard was $39.95 and is now $19.98. In addition, these Roxy Sun Dial Sandals are 50% off right now. Originally $22, they are now only $11.
If the sale section does not have what you want, then you must visit the Valentine's Day collection. Use coupon code VDAY25 for an extra 25% off only the items in the Valentine's Day Collection - this coupon code is not valid elsewhere on the website. The Seascape Surf Top looks like the perfect addition to my spring wardrobe as it has long sleeves and looks cozy enough for brisk spring days. Originally $44.50, the shirt comes down to $33.38 after coupon.
My wardrobe is lacking a proper swimsuit cover up so the Desert Island Dress may find its way into my cart. I assume all prices are in USD.
(Expiry: unknown)