Rivalus Canada: QWK KIT Only $30 ($180 Value) & Free Shipping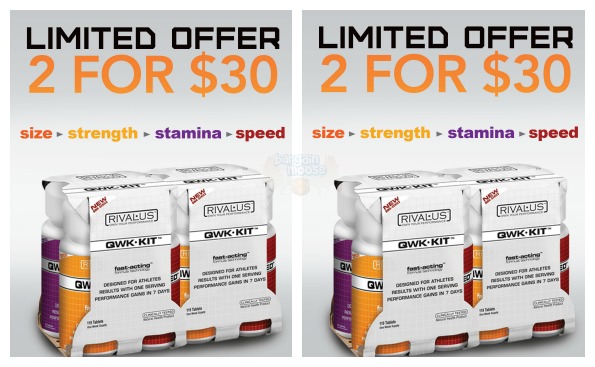 Rivalus Canada has a really sweet deal on their QWK Kit for athletes - receive two kits (a double kit) for just $30 with free shipping. The kits are worth $89.99 each, so this bundle has a total value of $179.98.
As athletes know, true performance supplements and drinks can be incredibly expensive that is why this deal that Rivalus put on for Black Friday (and that is still on) is so amazing. The QWK Kit is designed to bring out the fullest potential in an athlete before any big event. Here is how it works.
There are four bottles:
Size
Strenght
Stamina
Speed
In each bottle are enough tablets for a week's worth of servings. Not all serving sizes are the same, so the number of tablets in each bottle differs. Starting four weeks before your big event, you take one supplement for a week, and then start on the next supplement once the first one is finished. You start with size, then strength, then stamina, and then finish with speed. This kit is designed as a 'peaking kit' - to help athletes reach their peak performance. You can read an entire list of ingredients on their website.
Now, for $30 you are going to get two of these kits and free shipping. That is a pretty awesome deal right there. If my calculations are correct, you receive 119 tablets in just one kit, so you will be getting nearly 240 tablets for $30. For performance supplements, I think that is unheard of.
The only small downsize of this deal is that the pills do expire in March 2015 so you should only buy if your event(s) are between now and then. While your pills will not magically go from powerful to not working in one day, they will be less potent as they age.
I have no idea when this deal expires, so pick it up soon. There are some other great deals at Rivalus's website too if this does not catch your fancy. Check out the Pre – Intra – Post Deal where you receive $174.97 worth of product for just $102.93.
(Expiry: unknown)