Please Mum Coupon Codes: Save Additional 15% - 20% Off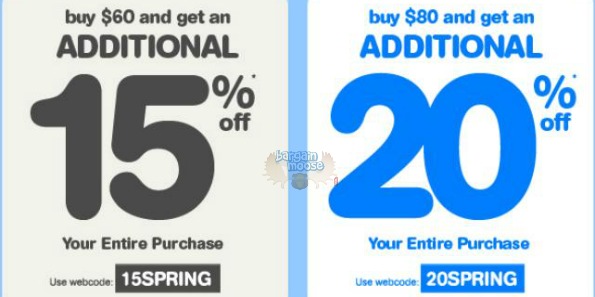 Please Mum Canada has 2 great coupon codes out right now until 3rd April 2012 for us to take advantage of.  Save either 15% or 20% on everything.
Here are the details for these codes:
Coupon Code: 15SPRING
Discount: Save 15% on everything when you spend $60 or more
Coupon Code: 20SPRING
Discount: Save 20% on everything when you spend $80 or more
Both of these codes are online exclusives and will be active until 3rd April 2012.  The great thing about these codes is that they can be paired with sales and clearance items as well.  I always head to the sales items first to get the most for my money.  One of the great deals that I found was this adorable hat on sale for just $0.99 (regular price is $14.99).  It comes in both boulder and blue and would look cute on either a boy or a girl with this sunny weather we have been having.
As an added bonus, since you would need to spend at least $60 to use one of these coupon codes and shipping is free after $50, you will not have to pay for any shipping on your order.
P.S. We try to keep our Canadian coupon section up-to-date with all the latest Please Mum promo codes, check it out before you buy anything online!