Picaboo Coupon Code: Save 10% & Free Shipping (July 18)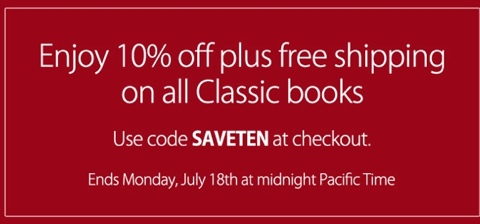 Until 18th July, 2011 at midnight PST, save 10% off all Classic Books and get free shipping!
Discount: 10% off and free shipping
Coupon Code: SAVETEN
Expires: 18th July, 2011 at 11:59 PM Pacific Time
This coupon can be used with all Classic books, in all styles and sizes. This offer can't be used with any other offer, coupon, Groupon or LivingSocial voucher. This is a great promotion to use since you get a discount of 10% and free shipping which could be valued anywhere from $8.99 for a 6x8 book to $17.99 for a 11x14 book.
If you compare this deal to a straight 20% off deal, you'll be saving more overall. For example, an 11 x 14 Classic Custom photo book is $59.99 and shipping is $17.99. With this deal you'll save $5.99 off the cost of the book and $17.99 in shipping fees for total savings of $23.99.  Compare this to the last Picaboo coupon for 20% off where you would have only saved $11.99 for the same book!