Parents Canada: 2 Blackboard Or Whiteboard Stickers for $19, Shipping & Taxes Incl.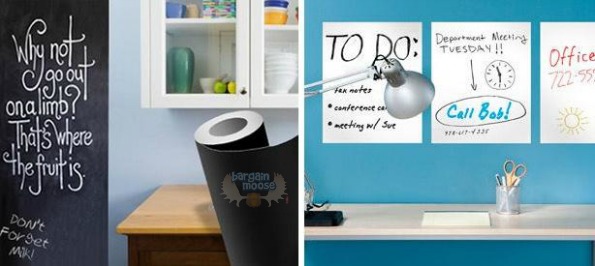 Parents Canada has a pretty cool deal on right now.  They are selling 2 blackboard or whiteboard stickers for just $19 which includes the taxes and the shipping.  The value of this deal is $49.
Here is a little more about this deal:
Chalkboard wall stickers:
Turn any ordinary wall into a writable surface
Comes with 2 pieces. Each at 45cm x 100cm
Sticks to any wall and peels off easily, without causing surface damage
Option to simply cut to desired size and apply to wall, doors, or cupboards
Reusable - simply peel off and re-apply
Whiteboard wall sticker:
Easy installation - Just peel, stick, and smooth
Ideal for classrooms, labs, training rooms, and outdoor settings
Use dry erase markers to write on it (not included) and to erase use a clean cloth or dry sponge
It will come with 2 pieces; each at 45cm x 100cm and it will include chalk as well. Delivery will take about 2- 4 weeks after the deal closes to get your items.
This is a great way to organize lists or to add some funky charm to an office space, bedroom or kitchen.
As an added bonus, you can save an additional $3 off the cost with the Parents Canada promotional code 2013.  That will drop the total cost of this deal to just $16.
(Expiry: 23rd January 2013)