Parents Canada: $12 for 3 Packs of Shoe Stickers & Free Shipping ($20 Value)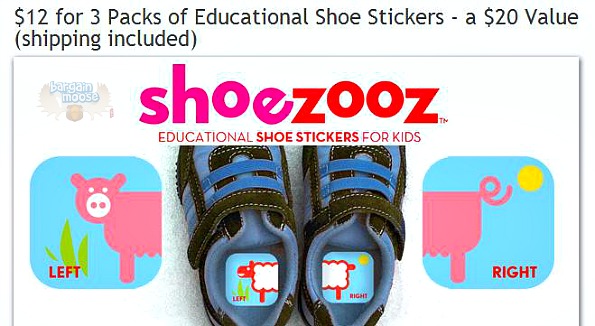 Being a teacher for 7 years and always being around kids, I am always looking for products that will help kids learn.  When I saw this deal at Parents Canada I got really excited.  They have a 3 pack of educational shoe stickers for just $12 and this includes free shipping.
These Shoezooz are stickers that you can put in your child's shoes and it will help them remember which shoe goes on which foot.  It is so simple and brilliant at the same time.  I can't even count the number of times that I had to help kids change their indoor shoes for outdoor shoes to go out for recess.  The kids keep putting their shoes on the wrong feet.  When you have a huge class of students, it's hard to make sure each one has done it properly.  This would eliminate that all together.  The child matches the sticker animals and has success on their own!
It is such a simple little confidence builder for a child to know that they can do their shoes on their own.  I love this product!  The value of this deal is $20 but you can get it for just $12 and that includes the cost of shipping as well.  Once you get the voucher you have until February 21st 2013 to use it, and you can buy as many as you would like for yourself or for gifts.
Don't forget that Bargainmoose has an exclusive code  for Parents Canada.  Use the Parents Canada promotional code BMOOSE to save $2 on your order.  That makes this deal just $10 total!
(Expiry: 28th August 2012)